Develop a complete pitch arsenal with industry leading data
Get pitch design analysis like never before with Rapsodo PITCHING 2.0. Instant data and video feedback plus pitch tunneling analysis provide the tools players need to develop a complete pitch arsenal.
features
---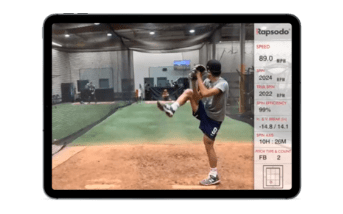 Analyze your pitching mechanics rep after rep in slow motion with immediate video feedback and Rapsodo data overlay.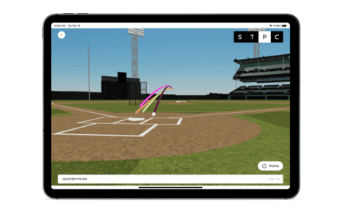 Designed with coaches and players in mind, Diamond App gives you every data point and report you need at your fingertips.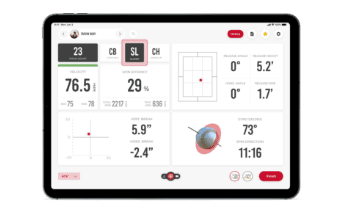 Save time with auto pitch tagging. Simply throw a pitch and your PITCHING 2.0 will recognize it.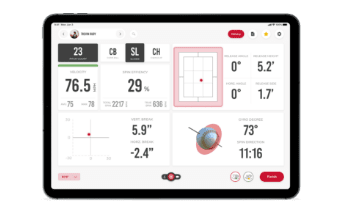 Know exactly where each pitch lands in or out of the strike zone.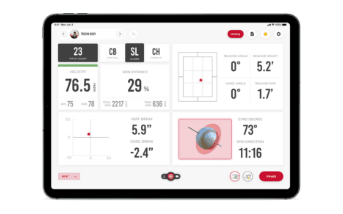 See your pitches like never before. View each pitch with our 3D spin feedback feature or see it on a simulated field from any angle so you can fully understand the path and flight of each pitch.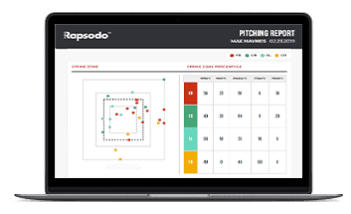 Rapsodo pitching reports go beyond data collection. See strike zone percentages, break plots, spin profiles, pitch breakdowns and more in an exportable PDF format.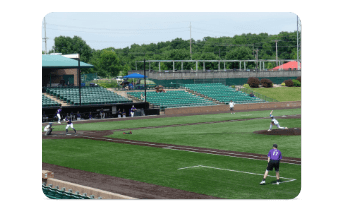 Take it to the field or leave it in the cage. PITCHING 2.0 is lightweight and durable so you can use it anywhere you train.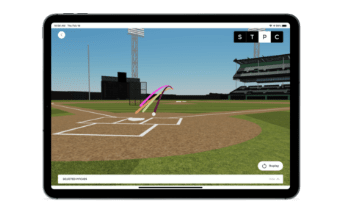 Get release point and ball flight comparisons for different pitches.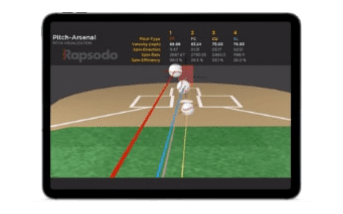 Understand where each pitch is landing and spinning compared to other pitches. Then use pitch
recommendations in your reports to discover which pitch is best to throw.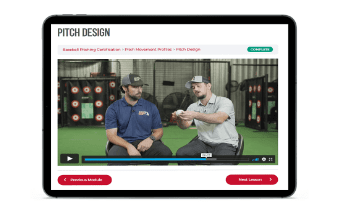 Access training videos anytime, anywhere so you can make Rapsodo data your second language, or call your dedicated Rapsodo Account Manager with questions any time.
Baseball pitch tracker for all levels
Capture every pitch alongside valuable data metrics that will help your players become the pitchers they want to be. Rapsodo's PITCHING 2.0 is easy-to-use, portable and trusted by the best in the game!
Build dominating pitch arsenals
Instant data and video feedback plus pitch tunneling analysis provide the tools players need to develop a complete pitch arsenal.
metrics
---

How fast a pitch is traveling during flight, measured in miles per hour (MPH).

The rate at which the ball spins during flight, measured in rotations per minute (RPM). There is a stronger correlation between spin rate and swinging-strike percentage than between velocity and swinging-strike percentage.

The spin directly impacting the movement of a pitch. Also known as "useful spin," it is perpendicular to the direction the ball is traveling, deflecting the otherwise straight horizontal and vertical path of the ball.
The tilt or angle of the baseball from the release point, measured in degrees, created by the Magnus effect. The Magnus effect is created by the air pressure surrounding the spinning baseball on its path to home plate.

How much a ball has moved when it crosses the strike zone compared to what its position would have been without spin. Break is measured horizontally and vertically in inches.
Vert. Break - Horz. Break
The height of the ball at the point of release.

The vertical angle at which the ball was released out of the hand.

The distance away from the center of the rubber from the left (-) or from the right (+).